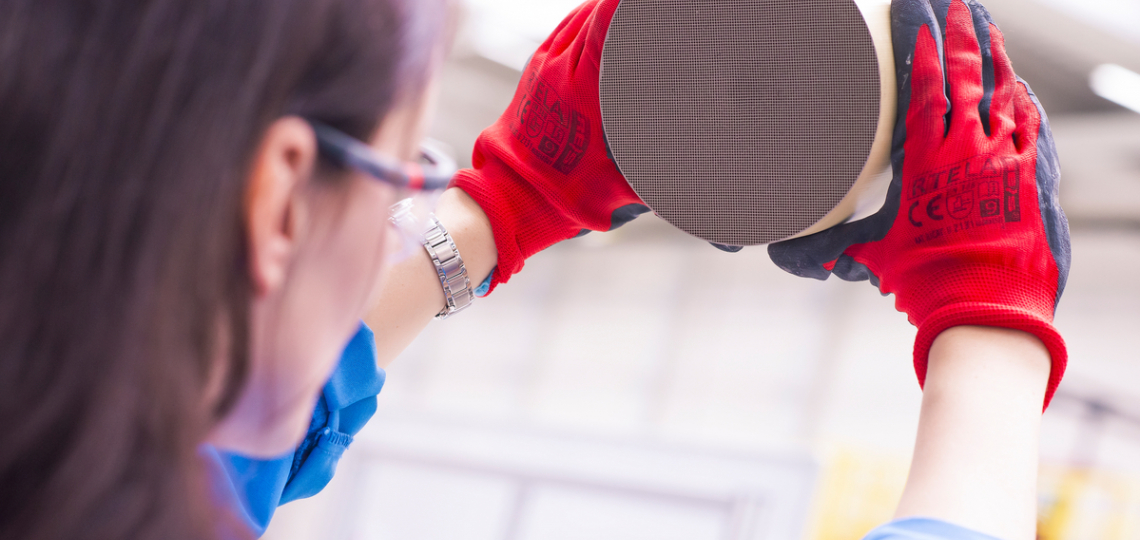 In 2019, Catalysis recorded revenues of € 1,460 million, up 7% from 2018, despite a steep decline in global car production. Umicore continued to outperform the light-duty vehicles market as a result of market share gains in light duty gasoline applications. In China, Umicore benefitted from the early launch of China 6-compliant platforms and continued to record solid growth. Revenues in Precious Metals Chemistry were also higher from 2018, due to growing sales of compounds used in pharmaceutical and fine chemical applications as well as fuel cell catalysts. Recurring EBIT for the Catalysis business group was € 185 million, up 10% from 2018, and recurring EBITDA was € 264 million, up 11%. Higher rhodium and palladium prices resulted in a significant increase in net working capital requirements in the second half of 2019.
While there are no signs of an imminent recovery in the automotive market, Catalysis is expected to continue to benefit from our strong market position in gasoline catalyst applications and a further penetration of higher value gasoline particulate filters in Europe and China. Fuel cell catalysts production will continue to ramp up in Korea.
Revenues for Automotive Catalysts increased compared to 2018, despite a global recession in the automotive market. In the light-duty vehicles segment, Umicore continued to outperform the market both in terms of volumes and revenues, particularly in China. This trend was more pronounced in the second half of 2019. We also grew volumes and revenues in a subdued heavy-duty diesel segment. Global light-duty vehicle production dropped by 6.3% from 2018, with all key markets posting a decline compared to 2018. Falling car production in China (-8.9%) was the largest factor behind the worldwide decline.
The European and North American markets contracted by 5.0% and 4.4% respectively. In this challenging context, Umicore grew volumes and revenues reflecting market share gains in gasoline catalyst technologies and an increasing penetration of higher value gasoline particulate filters in China and Europe. In 2019, 40% of Umicore's light-duty catalyst volumes were sold in the Asian car market, with China representing the majority of that share. Europe and the Americas each accounted for 30% of the sales volumes of our global light-duty catalysts.
In China, Umicore's volumes increased significantly driven by the ramp-up of recently won gasoline platforms and a strong exposure to international car manufacturers. Umicore is now the leading light- duty catalyst producer in the region. The increase in revenues was even more pronounced due to the early implementation of China 6 emission norms in certain large cities as well as the growing penetration of gasoline platforms that require particulate filters. This strong performance was in stark contrast with the Chinese car market, which shrank for the second year in a row in 2019. After a steep contraction of the car market in the first half of 2019, the pace of decline eased somewhat in the second half, reflecting a traditionally stronger fourth quarter and a more favorable year-on-year comparison with a particularly weak demand in the second half of 2018.
In Japan, Umicore's volumes were slightly down in an overall stagnating market, while in Korea and South-East Asia, our volumes were adversely impacted by the timing of certain platform changes.
The European car market declined by 5% from 2018, due mainly to a strong decrease in the production of diesel cars (-12%) which represented 35% of the car market in 2019. Umicore is less exposed to the light-duty diesel segment and outperformed the European car market both in volumes and revenues as a result of our strong market position in gasoline catalyst technologies and a growing contribution from gasoline particulate filters.
In North America, Umicore posted stronger revenues despite a declining car market, benefitting from the introduction of new platforms, an increased exposure to the SUV segment and a favorable customer mix. Our volumes were down in South America, in line with the car production in the region, while revenues benefitted from a good platform mix.
To cater for the growing demand for our catalysts, Umicore expanded capacity in key regions where legislation changes require more complex catalyst systems. In Poland, additional production lines came on stream in the second quarter of 2019, ahead of Euro 6d final. Production capacity was also expanded in the second half of 2019 in China, to fulfill stronger customer orders for China 6 compliant platforms, and in India to support the upcoming Bharat State 6 legislation.
Revenues for Precious Metals Chemistry were well up from 2018, driven by increased customer demand for Umicore's homogeneous catalysts used in pharmaceutical and fine chemical applications, as Umicore successfully expanded our customer base and portfolio of innovative solutions. Revenue growth was also supported by a significant increase in demand for Umicore's fuel cell catalysts used in the transportation segment. The demand for fuel cell drive trains is gaining momentum both for light and heavy-duty applications. To support the rapid growth of our automotive customers, we have expanded our production capacity for fuel cell catalysts in Korea. The new facility was inaugurated in October and production is ramping up.