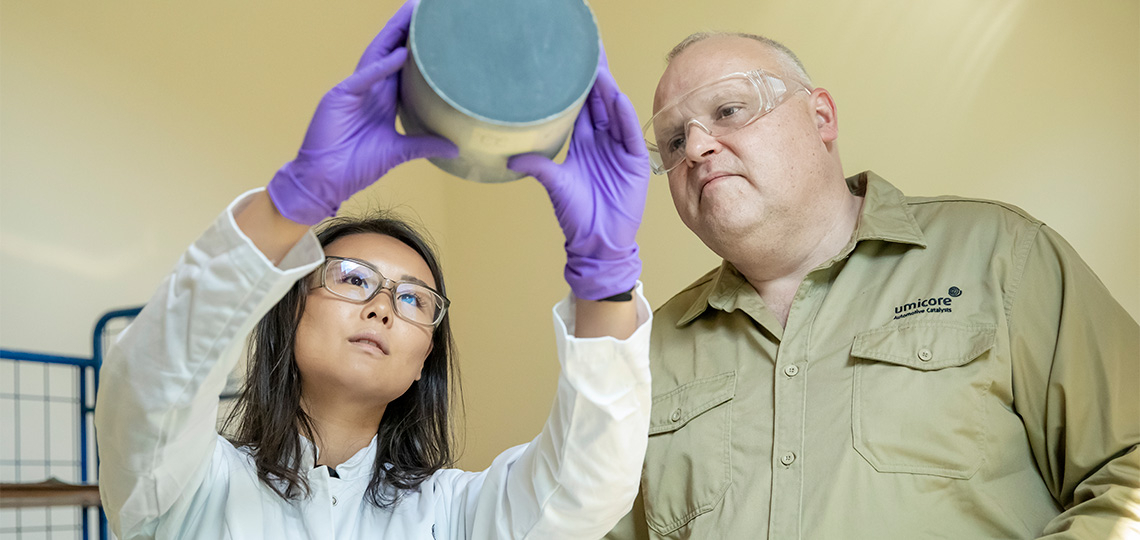 Gasoline particulate filters (2019)
Teamwork does make the dream work
What do a group of highly motivated team members with different educational backgrounds like chemists, material scientists, and engineers achieve? When they all work hand in hand to deliver the best suitable product for each customer, the answer is a great deal.
Umicore's success with state-of-the-art Gasoline Particulate Filters (GPFs) starts with our dedicated research and development team in the Automotive Catalysts business unit. The team analyzes materials and builds and tests prototypes under various conditions in our laboratories. We conduct engine tests on the promising new developments discovered. Later we identify the properties of our GPFs using Real Driving Emissions (RDE) tests on vehicles in one of our global test centers.
What are GPFs?
A GPF must reduce vehicle particulate emissions, but it could also do more. Umicore uses advanced coatings to add more functions to the exhaust system. We can apply functions by coating the filters with three-way catalytic materials that contribute to the reduction of emissions like hydrocarbons, carbon monoxide (CO), and oxides of nitrogen (NOx).
We also develop coatings to increase the filtration efficiency of GPFs or enhance regeneration behavior. These GPFs may be needed even more in the future as emission regulations can be tightened, and possibly include ultrafine particles in the emissions limits.
The rise of GPFs in Europe and China
Umicore's continuing growth in the GPF market is the result of the team working to achieve particulate emission regulations in Europe and China. These regions require vehicle manufacturers to install GPFs on many of their applications. For Europe, this means direct injection vehicles; for China, it is for all light-duty gasoline vehicles.
Starting in 2017, European vehicle manufacturers must demonstrate legislation compliance of Real Driving Emissions (RDE) requirements for CO, NOx, and particulate numbers. China will promulgate RDE in 2023.
To deliver these tailor-made GPF coatings, we rely on our broad experience in catalyst coating, extensive knowledge in material science, modeling, and process knowledge. Our close collaboration with the original equipment manufacturers (OEMs) allows us to be able to react to their needs quickly.
Our Success
The development of our highly functional GPF coatings help to reduce pollutants all over the world and is in line with Umicore's commitment to cleaner air. Umicore´s development of new and better coatings also enables us to minimize material used and therefore contribute to a sustainable future.
Umicore has a comprehensive portfolio of advanced GPF coatings. We deliver customized solutions that help the OEMs to fulfill the legislation requirements.