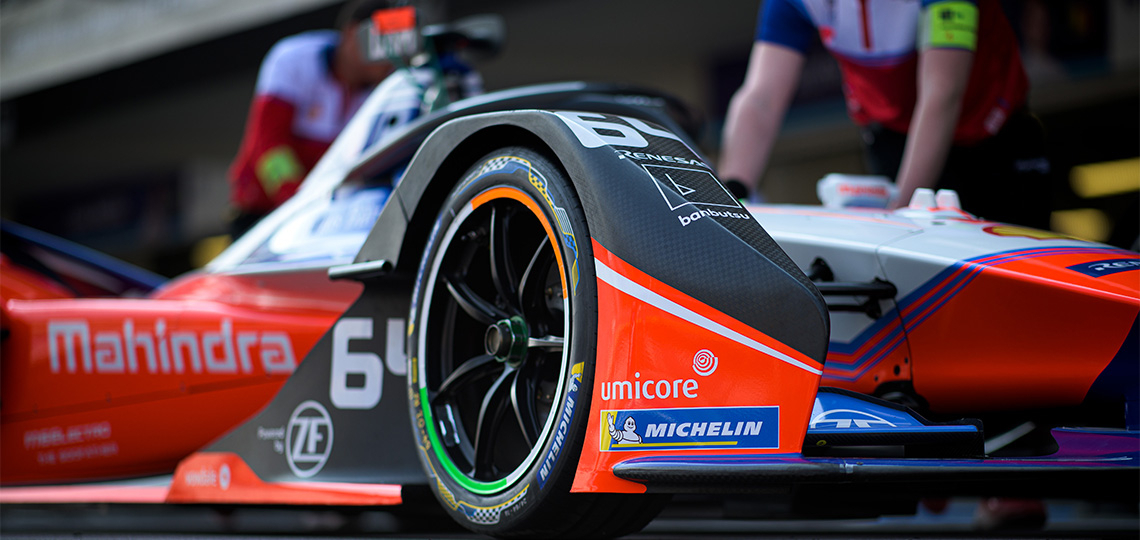 Battery materials in Formula E: from cathode production to battery recycling
Umicore is a global leader in the production of rechargeable battery materials for hybrid and electric vehicles and recycles spent lithium-ion batteries with its unique recycling process ensuring minimal waste and impact on the environment. Umicore's unique 'closed loop' approach for such batteries enables the recycled metals to be reused in the original application, which will be vital as the electric vehicles become more mainstream.
From battery development…
Umicore has teamed up with Belgian innovation company Voxdale and professional racing driver Sam Dejonghe to work in partnership with Mahindra Racing, one of ten founding teams in the ABB FIA Formula E Championship. They undertake a technology development programme which currently focusses on the enhancement of the performance of the 12V auxiliary battery which runs all mission-critical systems on Mahindra Racing's Formula E cars.
The results of this work was first seen in Mahindra Racing's season five car 'M5 Electro'. The lightweight low voltage battery with an incorporated automotive battery management system (BMS) and on-board race analysis exceeded the FIA safety targets. Some major improvements were implemented in the season six battery: the battery size and weight was reduced by 50%; the BMS system was upgraded and its new architecture allows for improved safety and ongoing software management to achieve full functionality.
Dilbagh Gill, CEO and Team Principal Mahindra Racing: "Our partnership with Umicore and Voxdale further validates our commitment to the eco-revolution by completing the cycle of creation, efficient and optimal use, and recycling of materials used in the field of electrical energy. Sustainability as an outcome of whatever we undertake is an absolute must."
… to battery recycling
Umicore is also the official battery recycling supplier of the ABB FIA Formula E Championship and recycles the lithium-ion traction battery units and cells used on all Formula E cars during the first two seasons of the electric street racing series, with further end-of-life options being evaluated for the current batteries raced with on track.
After collection, the Formula E traction batteries were taken apart using methods to ensure the environment is not exposed to hazardous compounds. Recycling includes the recovery of the metals using Umicore's unique proprietary smelting technology followed by hydrometallurgical treatment. In a next step they are transformed into cathode materials that can be used again in new Li-ion rechargeable batteries of electric cars.
The metals in the battery are infinitely recyclable without losing their properties. This closed loop approach results in a dramatically lower environmental footprint of the resulting battery materials.
Alejandro Agag, Founder & Chairman of Formula E: "I am grateful to be partnering with Umicore on this important initiative. Sustainability is at the core of both companies, and to be able to recycle our battery cells with a closed loop approach means we are doing our utmost to limit the impact we have on the environment - while promoting a wider message of clean mobility."